Leduc to serve as Winter Carnival 2004
Grand Marshall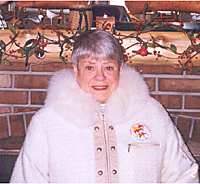 By MATT LAVIN
Enterprise Staff Writer

SARANAC LAKE As Winter Carnival approaches, the details of this year's
celebration have begun to develop. The theme is set, construction of the ice
palace is set to begin and this year¹s grand marshall has been named.
Natalie Leduc, known across Saranac Lake as the woman who taught the
village to ski, has been selected to serve the celebrated role in the Winter
Carnival parade.
"I was totally, totally surprised," she said Wednesday. "It¹s really, to
me, an extreme compliment coming from your village. I¹m totally flattered."
Leduc was on the Saranac Lake High School ski team from 1945 to 1948,
pinning down the New York state women¹s championship skiing title in 1948.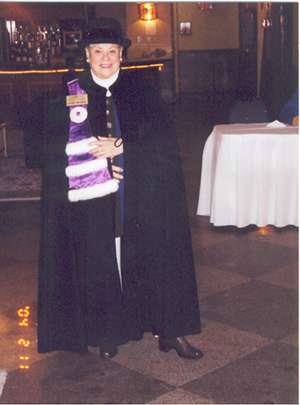 In 1951, Leduc was named the Winter Carnival Queen, something she considers
one of her great experiences to this day. For 18 years, she then served the
school district as a ski instructor for elementary school ski classes, which
were offered free to students for many years. Leduc estimated that she
taught 2,500 kids to ski at one time or another.
Leduc said she¹s honored to be a part of carnival tradition.
"I've been a part of that heritage since I was Carnival Queen," she
said. "I am a Saranac Lake girl. Winter Carnival is part of the reason I
stay around each winter."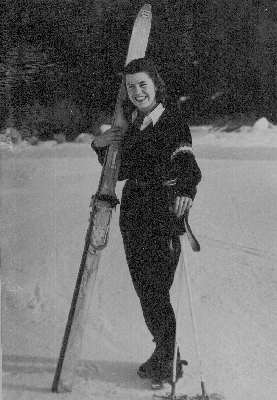 Leduc is a third-generation Saranac Lake resident and was recognized as
citizen of the year in 1999. She has won numerous civic awards and has
served in many service roles. She is currently employed as a real estate
sales agent for Rob Grant and Associates and is chairing a campaign to raise
money for the purchase of a safe house for victims of domestic violence in
the Tri-Lakes.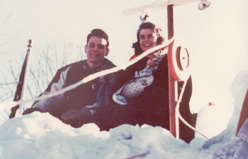 Natalie Leduc in 1951 as Carnival Queen
(pictured with the "king" Tom Fina)

Leduc still stays active as a skier, spending time as a member of the
Casa del Sol Citizens Ski Team. She is also widely accepted as the area's
principal authority on the history of skiing in the area.
As for carnival, Leduc said she's looking forward to it as always. She
added that she's happy about this year's theme, "Carnival Time."
"I think it's a good theme because everybody¹s going to have a chance to
be what they want to be," she said.